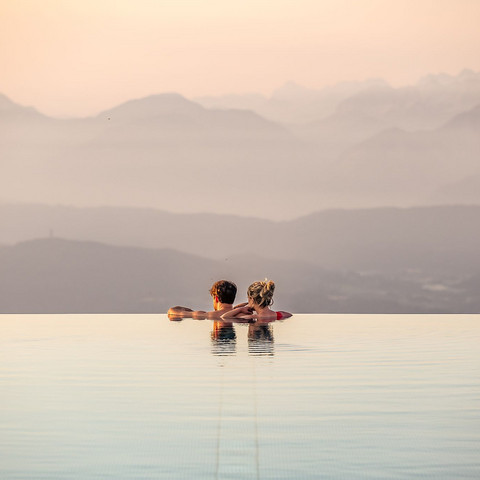 Enjoy Autumn at the Mountain Resort Feuerberg
Recharge with light, warmth, and love. Not just for the winter.
---
Up here, we are very close to the sky. Radiant colors, gentle light, and earthy notes blend into the still powerful scent of the alpine meadow. Late blooming flowers delight our eyes and hearts.
We relax in a lounge chair, in the spacious open area of Carinthia's Bathing World on the Mountain, and sometimes, we even need a blanket! That's when a little cloud has separated from the high fog far below us.
We step outside of our daily routine, taking a break from the hustle and bustle that spreads between September and December. We want to pamper ourselves properly, not just halfway. For this, there is no better destination than the Mountain Resort, which exudes a captivating tranquility in autumn. Couples relish the rare closeness they share.
Around the end of October, our alpine retreat becomes lively. The children are on vacation from school, and it's the first time since summer that we enjoy "family time at Feuerberg." After that, in November, the atmosphere becomes quieter once again.
The autumn at Feuerberg is truly beautiful.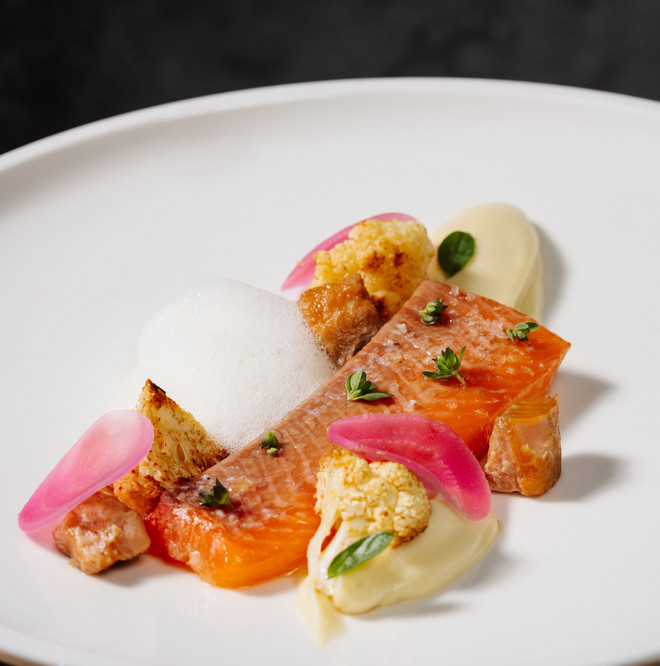 Cabin vacations are inherently romantic. When they are complemented with culinary delights and a 4,500 m² large bathing and wellness area, hearts soar even higher. Because: In our chalet village, you also get to enjoy the full inclusive services of the resort.
Original Japanese tea ceremonies at Feuerberg
Erwin Berger's affinity for meditative Zen gardens led us to encounter the Japanese tea ceremony. The result: The beautiful tea room Horai - our "spiritual center."
Vom begnadeten Teemeister Dr. Staufenbiel begleitet widmen wir uns unter der Führung von Richard dem Weg des Tees. Richard: "So wie der Wind in den Kiefern frei durch die offene Weite des Himmels streift, bringt das Singen des Teekessels Weite in den engen Raum." Der enge Raum weitet und die ganze Welt versammelt sich in einer Schale Tee. Wir öffnen unser Herz, leeren unseren Geist, spüren mit unserem Atem der unendlichen Weite unseres Herzens nach.
Zen priests Dokuho J. Meindl
The cultivation of the mind and the promotion and restoration of health are central themes in the life of Dokuho J. Meindl. He embodies these principles in various ways, as a naturopath, psychotherapist, author, and composer. Over 25 years ago, he journeyed across land to Japan to explore the teachings of the East. Upon arrival in Japan, he became the first Western Zen monk to enter Eigen-ji Zen monastery and received the monastic name "Dokuho" (individual peak). Following his training at the Zen monastery, he studied traditional Chinese medicine and QiGong in Beijing. In 1991, Dokuho returned to Germany to share his knowledge with others.
Discover other seasons at Feuerberg
While outside the holiday periods, the focus is mainly on relaxation and tranquility, during the winter and summer holidays, many families with children bring life to our Mountain Resort.