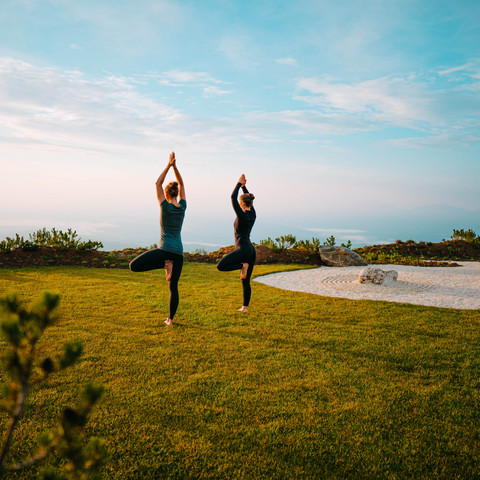 Adventure holiday in Carinthia in spring
Early summer awakening at Feuerberg
---
In spring, the spirits soar to new heights, especially at Feuerberg. Early risers are welcomed by Angelika, Nina, or Richard for invigorating yoga sessions. Hikes begin right at the resort. 147 kilometers of well-maintained trails lead through blooming alpine meadows and forests that shine with fresh greenery. Our activity program encompasses spirit and movement. You can also be guided by our local mountain experts. The Gerlitzen Alpe is stunning and diverse – but not "difficult." Finding the 9 power and energy spots is easy. During early summer, except for the Pentecost holidays, it's quite peaceful at the Mountain Resort, ideal for some "me-time" or a romantic weekend for two.
Recharge your energy in nature
Nature awakens from winter slumber. Especially in spring, the alpine meadow becomes a place of strength. Thanks to its high altitude and fresh mountain air, you can quickly replenish your energy reserves.
"The best source of health and strength is nature. We now know from numerous scientific studies about the diverse healing powers of the forest. Forest bathing is the magic word. Immerse yourself with us in the soothing atmosphere of our nearby Silberwald with its hundred-year-old larch, spruce, and stone pine trees, and feel your strength returning."
Spring and early summer at Feuerberg are generally a very quiet time. An exception is during the Pentecost holidays when many families visit the resort. Therefore, during these days, there is an activity and leisure program that is similar to the one during the summer holidays.
Summer Sauna
The sometimes quite exotic show infusions and sauna ceremonies have long been one of the trademarks of the Mountain Resort Feuerberg. Our seven sauna specialists and ceremony masters have developed more than 20 different programs, attractions that captivate our guests daily anew.
Wellness center
Isabella Berger offers soothing treatments in her wellness center. These include classic massages, energetic or detoxifying therapies, as well as cosmetics and foot care using locally produced natural products. Treat yourself and indulge in some pampering.
Cycling in Carinthia
The Ossiacher See and its surrounding area are among the most beautiful cycling regions. The absolute highlights for enthusiastic cyclists are the cycle path around the lake and the Drau cycle path that directly connects to it. You don't even need to bring your own bike: There is a rental service in Bodensdorf. From there, bike buses take you to the desired starting points – and back again.
Book your adventure vacation in Carinthia in spring
Spend your next spring vacation in Carinthia on the Gerlitzen Alpe – special experiences on the mountain are guaranteed. Inquire about your holiday at the 4*S Mountain Resort Feuerberg now or book directly at the best price.