Experience mountain & lake
MOUNTAIN RESORT FEUERBERG: AUSTRIA'S ALPINE SPA RETREAT
On an alpine plateau of Gerlitzen Alpe, with views over the entire Carinthia region, Austria, an unparalleled vacation experience is being created, where nature, a 4,500 m² wellness oasis, and a multitude of adventure opportunities harmoniously blend together.
---
The resort, situated in a premium location above the clouds at an altitude of 1769 meters, encompasses a luxurious wellness hotel, 14 romantically comfortable chalets, and an extensive wellness oasis with an alpine lake, 11 pools, saunas, and much more.
Located in the heart of Carinthia, Austria, the Mountain Resort Feuerberg offers direct access to the breathtaking nature of Gerlitzen Alpe, inviting guests to engage in inspiring activities throughout every season. Our diverse leisure program is perfectly tailored to families during vacation periods. Outside of peak seasons, it becomes a special haven of relaxation for tranquility seekers and couples.
Our award-winning culinary team transforms the finest products of Carinthia into heavenly taste experiences. Let yourself be inspired by the wide range of offerings at Feuerberg, promising an unforgettable time in the south of Austria.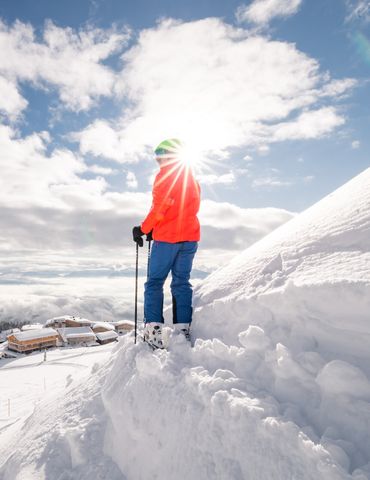 "For over 100 years, our family's heart has been dedicated to showcasing this unique place on Gerlitzen Alpe to its fullest - our vision is to make sure you simply 'have a beautiful time' with us.
From a humble alpine farm, Feuerberg has evolved into a luxurious vacation destination in the untouched nature of southern Austria. Our focus has always been on preserving and making the natural beauty accessible to you. Lush meadows, forests, and an exclusive wellness water world await you. We take great pride in our diverse offerings, ranging from meditative sound ceremonies and show sauna infusions to alpine hikes and nature playgrounds.
We invite you to experience the beauty of Feuerberg and discover this place for yourself."
The most scenic spa we have ever visited, with breath-taking views from the mountain. Really friendly and kind staff.
Ajda Mrsek
21.10.2023
Me and my family spent 3 nights in your beautiful resort. Thank you for all your hospitality. We really enjoyed our holiday in your hotel. Staff were very welcoming, kind and helpful. We had some good and quality family time. We enjoyed your delicious breakfasts and dinners. We also really loved your SPA and wellness areas full of saunas, relaxation rooms, and pools. It is a really beautiful place to relax. Thank you for everything and hopefully we'll see all of you again.
Martina
16.06.2023
We had a wonderful stay, the skiing was excellent, the wellness area exceptional and the food and welcome at the hotel was outstanding, cannot recommend more.
David Bailey
08.04.2023
A perfect day from waking up to breakfast, snow, bathing, kids club to dinner and evening program!
Ronald Oomen
04.03.2023
What a wonderful stay- lots of exercise and relaxation with fantastic food at the beginning and end of each day. Lovely helpful staff are everywhere helping to create a friendly atmosphere. we were blessed with a lot of snow and the scenery was outstanding!
Dymphna Marron
25.01.2023
We had a wonderful stay and will definitely be back
Nada Ahli
16.12.2022
Visited the resort for 2nd time, fully recommending to evryone who intends to relax in nice and peaceful ambiente, surrounded by very nice staff.
Petr Dvorak
21.11.2022
James B. Salva
James Salva
06.08.2022
Thank you for a great stay, beautiful views, fantastic food and an amazing atmosphere. Keep it up! It was a wonderful time. We love you. We will come back here again.
Malwina+Marcin+Marcin jr. Sommer
29.12.2021
This hotel has to be experienced to be believed - fantastic. Austria at its best!
Marie Leimer
18.10.2021